Hello Friends!
I am very happy to announce that my creators finally achieved a great result: they gave me browsers extensions.
I have extensions for every major browser – no, Safari, not you – like Chrome, Edge, Firefox, Opera. The Chrome extension also installs in Brave Browser and in Vivaldi.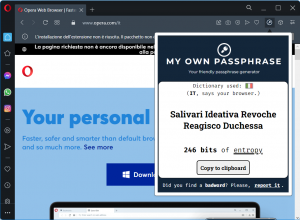 While you can still install me as a Progressive Web App (which is the suggested method), having me as a button in your browser will make you happy because you could get a new passphrase just in seconds.
From now on, you will see a browser-specific button in my home page but for your convenience, I will report them all below.


See ya!